When you were 8 years old, what did you ask Santa for? A doll? A game? A book? Most kids spend weeks preparing their lists for Santa and dreaming of the toys and gifts they want most. But this year, a young boy North Carolina asked Santa for something different: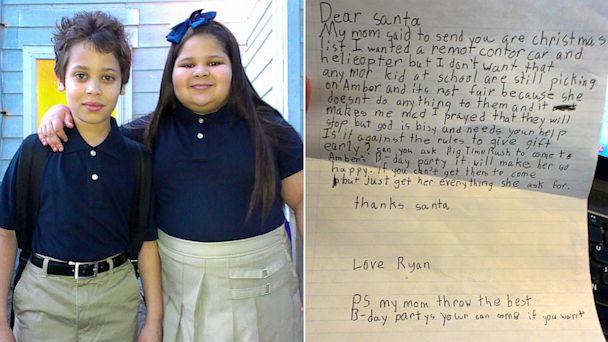 This September, Ryan Suffern, of Rocky Mount, N.C., wrote a letter to Santa asking that he stop the kids at school from picking on his fraternal twin sister, Amber:
"kid at school are still picking on Amber and its not fair because she doesnt do anything to them and it makes me mad. I prayed that they will stop but god is bisy and needs your help."
He also went on to ask Santa to have Amber's favorite band, Big Time Rush, to perform at her birthday party, thinking only of his sister in his Christmas wishes. His letter gained attention through social media and on September 20, ABC's Good Morning America (GMA) featured a special on Ryan and Amber's story and the bullying that Amber was facing. GMA even arranged for Amber to meet Big Time Rush with her family! Watch the heart-wrenching story:
"Bullying is a scourge that is taking our most precious resource: the young children of this country"
- Josh Elliott, Good Morning America


Ryan's letter brings attention to the bullying that kids of all ages face, and the power each of us has to make a difference on issues important to us. What will you ask Santa for this Christmas? Who will you stand up for?