It takes courage to speak out on injustices. Harriet Beecher Stowe put pen to paper starting in 1851 to "make this whole nation feel what an accursed thing slavery is." (Isabella Porter Beecher to Harriet Beecher Stowe) Her final product,
Uncle Tom's Cabin
, indeed moved a nation and - according to the legend surrounding her visit with President Abraham Lincoln - contributed to the outbreak of the Civil War. But the national and international success of
Uncle Tom's Cabin
did not come without a cost. For years after the serialization and publication of the book, Stowe received widespread criticism and was attacked for publishing what many believed to be lies and falsehoods about slavery. She even received death threats and body parts of slaves in the mail. Yet Stowe persevered and continued as an anti-slavery advocate because she believed her actions could make a positive difference.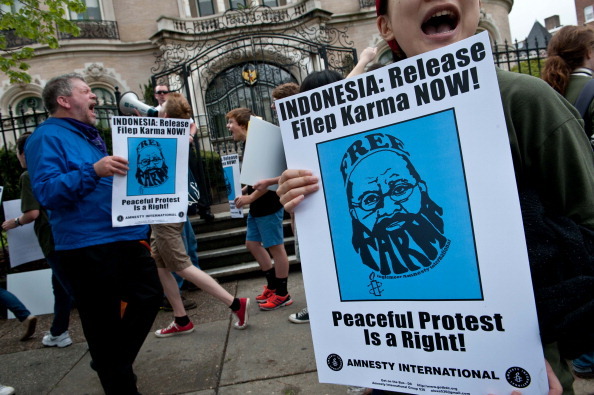 Today, human rights and political activists continue to face opposition and sometimes punishment for using their voices to raise awareness on contemporary injustices. Following the
death of Nelson Mandela
earlier this month, Dominique Mosbergen published "
Nelson Mandela Was Released From Prison After 27 Years. These 10 Political Prisoners Are Still Waiting
" in the Huffington Post, sharing the stories of 10 activists "who are still suffering in jails around the world for standing tall in the face of repression." Their stories highlight acts of incredible courage, as well as the many global issues that still need attention to create a just society.
In the United States, we enjoy the freedom of speech which many around the world do not. This freedom should be a motivation to emulate Harriet Beecher Stowe and use our talents and voices to express our opinions and advocate for justice.
Which issues do you advocate for? How might you exercise your freedom of speech in the new year?