Though celebrated around the world, Americans, whether Irish or not, love St. Patrick's day more than most. But despite the popularity of St. Patrick's day, Irish history, including the story of why many Irish-Americans came to the United States,
is absent from history curriculums
.
One of the darkest and misunderstood periods of Irish history is undoubtedly the potato famine, where an estimated one million Irish citizens died and an additional million fled the country (to places like the U.S) in a period of mass starvation and destitution. The potato famine, which lasted from 1845-1852, is largely understood as a natural disaster- that is the deaths were a result of widespread blight that affected potatoes. And while the blight contributed, political decisions, including the mass exportation of other food crops, like grain, eggs, flour, and cattle by British landlords, exasperated the situation, and turned a one-crop disease into a manufactured phenomena of economic exploitation and marginalization.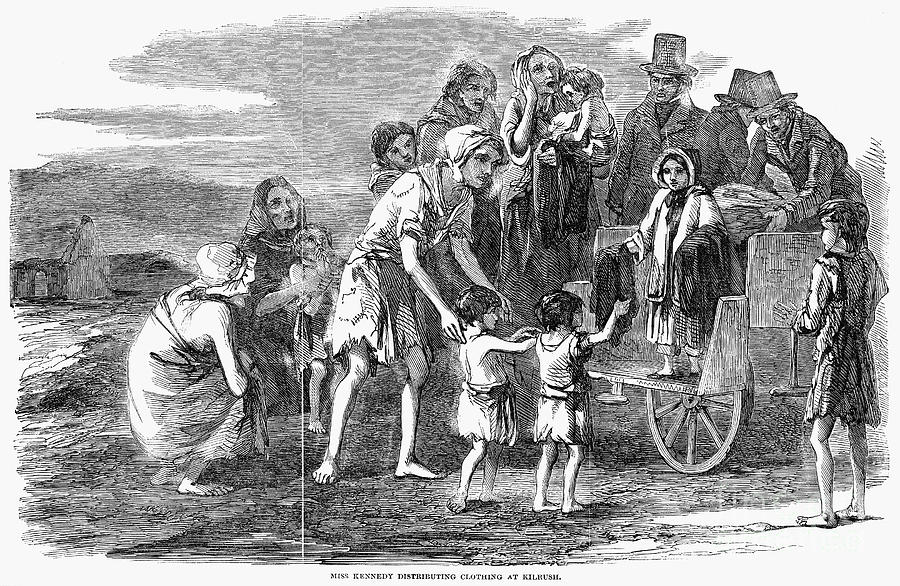 Illustration of Irish potato famine
Elements of the Irish potato famine can be seen today in global food systems. Though enough food is produced for all of the world's 7 billion people, much like enough food existed in Ireland at the time of the famine, 1 in 8 people still go
hungry
. The existence of hunger is a result of inequities in the production and distribution of food. Globalization has allowed individuals with means to access food from all over the world, yet many of the individuals cultivating this food can not afford or access it themselves.
How can we use lessons from the Irish potato famine to compel contemporary food justice? Though most known for anti-slavery advocacy, Harriet Beecher Stowe was a champion of early environmental and food justice causes and even supported local, "fair trade" general stores. Is buying local and "fair trade" food a solution to larger inequities in food distribution? How can we create a more equitable global food system?
Come to the Stowe Center to experience the new

Stowe House experience

aimed at using the story of Stowe to encourage positive change and social justice. Whether you care about food justice, education, or abolitionism come and share your thoughts!